A treasured gift
Thanks to the efforts of the International Red Cross, the Swedish ship SS Vega made six trips from Lisbon to the Channel Islands between December 1944 and the end of the War, bringing vital supplies. In return, Islanders raised large sums of money for the Red Cross, and continue to support the charity to this day.
Saving lives
In addition to life-saving food parcels, the Vega brought tons of salt and honey, flour and yeast, as well as clothing, shoes and soap. There was also much needed fuel oil - diesel and paraffin. Special medical supplies saved the lives of many.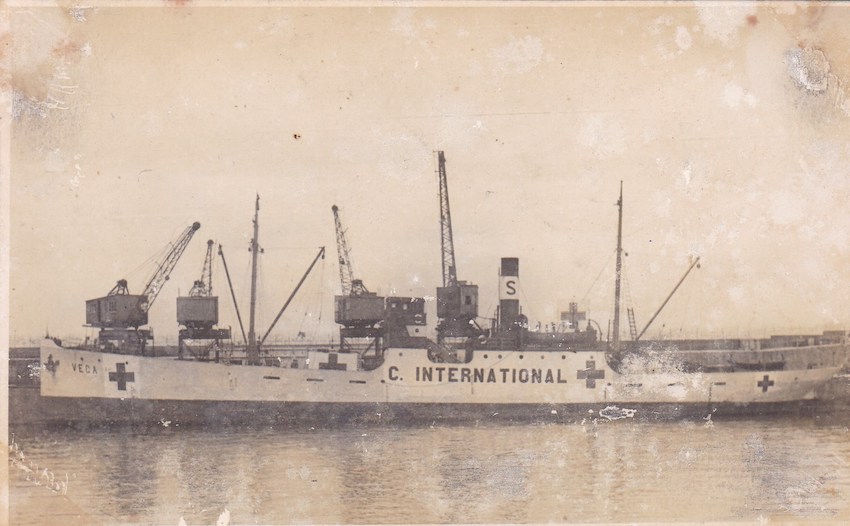 A treasured gift
SS Vega docked in St Helier at the time of Liberation in 1945, when a gift of appreciation - a silver-plated Jersey milk-can - was presented by the Island to the Vega's Captain Gösta Wideberg. A speech of thanks was made by the Bailiff, Sir Alexander Coutanche.
Some 50 years later this milk-can was brought back to Jersey by Captain Wideberg's daughter for a small repair. Visiting the Island on holiday, she said that it had been in daily use as a teapot since the end of the war, and was greatly treasured by the family. No charge was made for the work carried out!
Never forgotten
A stone memorial to the SS Vega is built into the wall of the Albert Pier near where she docked in wartime. The vessel has been commemorated in art, as well as photographs, and will never be forgotten.